California Landscapes - Save Water and Enrich Biodiversity
Use these plans to inspire your lawn replacement or California native plant conversion.
Living Learning Landscapes Demonstration Gardens
Visit LivingLearningLandscapes.com for eight wonderful plans
to download and use. You can also visit four of these landscapes near the Santa Rosa Junior College - the addresses are on the plans.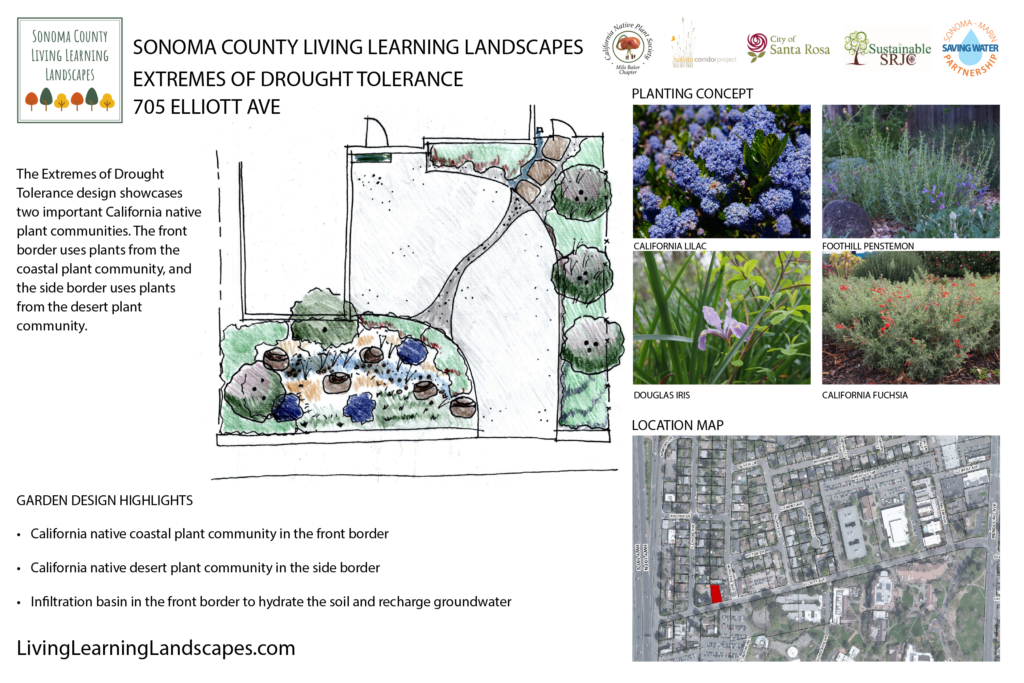 Small Garden Replacements  - Hot and Dry
These 900 SF gardens were created for Habitat For Humanity in the Fresno County Region.  They include an extensive Central Valley Plant list as well.  They should cost less than $3000 to install.  These plans will translate anywhere in California - if it can grow in the central valley - it can grow in your yard!
Habitat For Humanity -SIMPLE AND COLORFUL PLAN
PERENNIAL FLOWERING MEADOW PLAN
Habitat Garden - Front or Back
A habitat garden is simple.  Provide water, cover and food and a variety of California native plants and watch your garden explode with life.  This one will work all over the state in Part- Sun in the Western Regions mostly sunny.  This garden was originally installed in Healdsburg, California where it gets REALLY warm in the Summer.  It is delightful with some of our favorites:  Eriophyllum lanatum (Wolly Sunflower), Juncus patens (Blue Rush) - in the swale, Cercis occidentalis (Red Bud), Ceanothus 'Anchor Bay' (Groundcover Blue Blossom), Arctostaphylos 'Howard McMinn' (McMinn Manzanita) to name a few!
Click here for the SONOMA COUNTY Open Source Prelim Example
Click here for the Swale and perennials with shrubs WEST FACING CALIFORNIA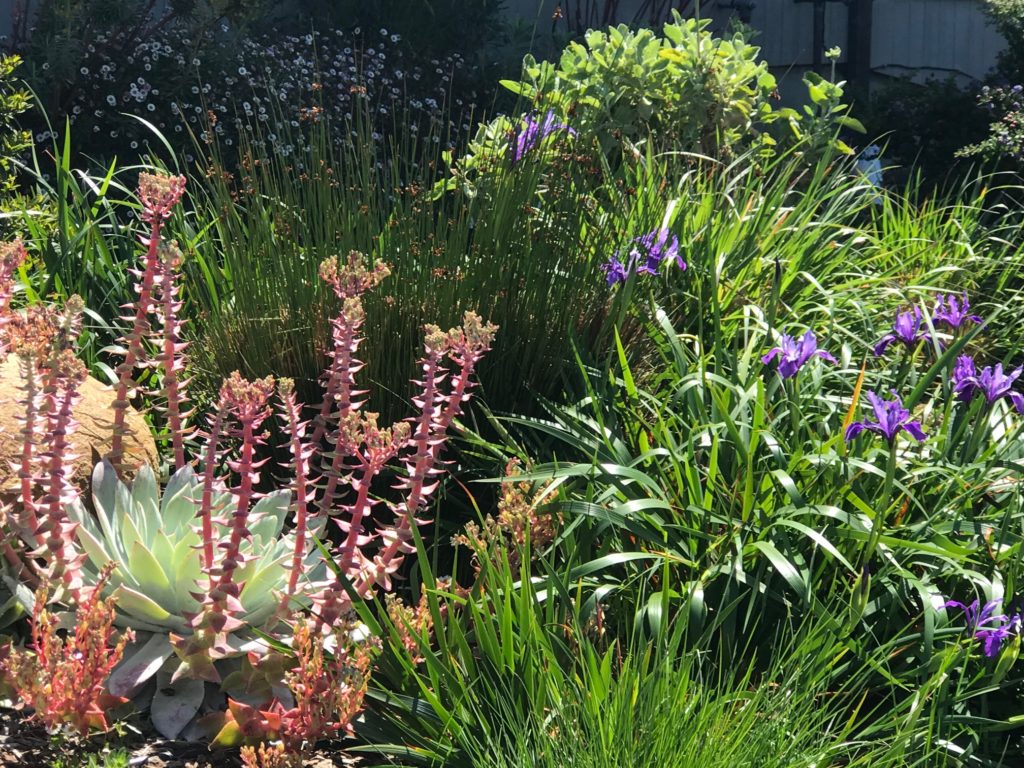 Coastal Garden
Coastal gardens are a great source of biodiversity.  Some of our favorite coastal plants are Leymus condensatus (Giant Wild Rye), Iris douglasiana (Douglas's Iris) and Atemesia douglasiana (Sage).  Use this plan to replace your lawn with a beautiful garden.
Click here for the COASTAL GARDEN-PLAN