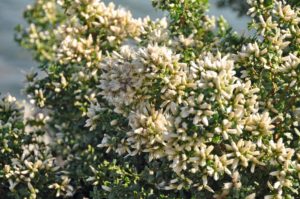 One of the best ways to add biodiversity and habitat value to your landscape is to plant a hedgerow. Hedgerows can be any size and combination of trees and shrubs that provide cover, foraging and nesting sites for our local wildlife. Native plants and wildlife have evolved together; native plants offer food—berries, seeds and nectar— for birds, pollinators and other beneficial insects.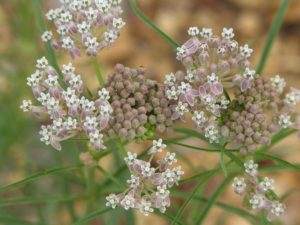 Plant your hedgerow on a berm, if possible, to provide good drainage, and space plants 7' to 8' apart or as close as 4' for a dense thicket. Add native grasses, perennials and annuals to the understory, such as deergrass, yarrow, wildflowers, aster, buckwheat and milkweed.
Don't "hedge" your hedgerow. Allow it to grow to full size, flower and set seed to offer maximum benefit to birds and pollinators.
Here are few of our favorite hedgerow plants, available at California Flora Nursery in Santa Rosa: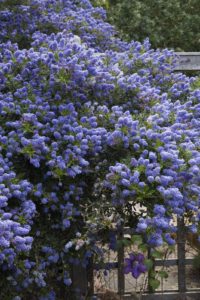 Toyon (Heteromeles arbutifolia)
Manzanita – Arctostaphylos 'Howard McMinn' or 'Monica' (both local species selections)
California lilac —Ceanothus 'Julia Phelps', 'Dark Star', 'Concha'
Coyote brush — Baccharis pilularis, spp. 'Consanguinea'
Coffeberry (Rhamnus spp.)
Milkweed —Asclepias fascicularis, A. eriocarpa, A. speciosa
California fuchsia —Epilobium 'Calistoga'
Yarrow millefolium
Native bunch grasses — Deergrass (Muhlenbergia rigens), California fescue
Photo Credits: Mieko Watkins, Cynthia LaMar