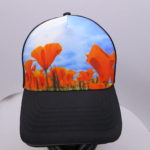 First Edition California poppy performance trucker hats designed by us manufactured by Headsweats.
The Habitat Corridor project added our image of California Poppies to an already fantastic product it's a hat that benefits biodiversity or Hats for Habitat. $10.00 PER HAT goes into our fund for demonstration gardens.
Email april@habitatcorridorproject or habitatcorridorproject@gmail.com for your order.
In Headsweats words: "When you're done cycling, running, or lifting, you don't always think about how your hair looks. Headsweats' Performance Trucker Hats give you comfortable headwear that you can relax in without having to worry about your hair. Our Trucker Hats are made with the same fabric technology as our cycling and running hats, so your head will stay cool as you unwind after a workout. We have Truckers for both men and women, so everyone can find a style they like.They are